CyLab to host inaugural CMU Secure Blockchain Summit
Mar 23, 2023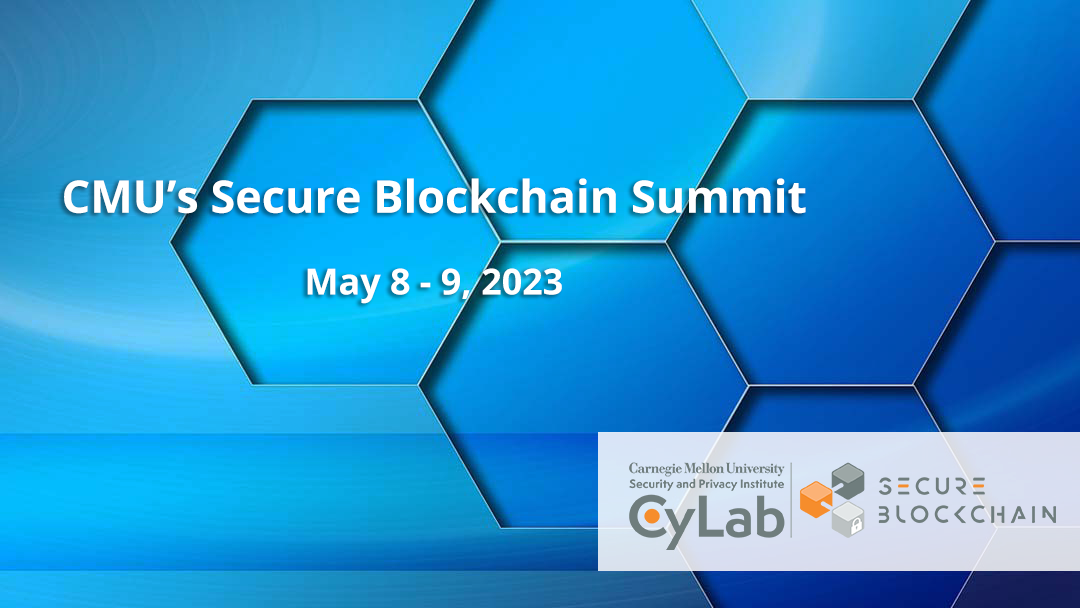 Despite recent advances, many research questions still need answering to ensure blockchain protocols and applications are ready for widespread use. As more consumer applications emerge, such as decentralized finance (DeFi), securing the fundamental research elements of the technology is of the utmost importance.
On May 8-9, the CyLab Security and Privacy Institute will host Carnegie Mellon University's inaugural Secure Blockchain Summit, bringing together experts from academia and industry to discuss the future of blockchain research, technology and applications. The two-day event will include sessions on a variety of topics, including crypto-economics, applied cryptography, programming languages, security and privacy, policy and usability, ethics, equity, and more.
The Summit's impressive speaker lineup will feature experts from Carnegie Mellon and around the world, including:
 
Jonathan Aldrich
Professor
CMU's Computer Science
Department

Fraser Brown
Assistant Professor
CMU's Software and Societal
Systems Department

Benedikt Bunz
Assistant Professor
NYU Courant
Hao Chung
Ph.D. Student
CMU's Electrical and Computer
Engineering Department

Sauvik Das
Assistant Professor
CMU's Human-Computer
Interaction Institute

Isil Dillig
Co-founder
Veridise Inc.
Giulia Fanti
Assistant Professor 
CMU's Electrical and Computer
Engineering Department

Hanan Hibshi
Assistant Teaching Professor
CMU's Information Networking Institute
Jan Hoffmann
Assistant Professor 
CMU's Computer Science
Department

Tae Wan Kim
Associate Professor 
CMU's Tepper School of Business

Hugo Krawczyk
Principal Researcher
Algorand Foundation
Lisa Masserova
Graduate Research Assistant
CMU's Computer Science
Department 

Andrew Miller
Assistant Professor
University of Illinois,
Urbana-Champaign

Andrew Myers
Professor
Cornell University
Tal Rabin
Professor
University of Pennsylvania

Martin Saint
Director of Academics
CMU-Africa
Robert Townsend
Professor
Massachusetts Institute of Technology


Matt Weinberg
Assistant Professor
Princeton University 


Ke Wu
Ph.D. Student 
CMU's Computer Science Department
Osman Yagan
Research Professor
CMU's Electrical and Computer
Engineering Department 

Mingxun Zhou
Ph.D. Student
CMU's Computer Science
Department
The event is invite-only; however, those interested in attending are encouraged to fill out the Summit's Google form or contact the CyLab partnerships team at partnerships@cylab.cmu.edu.
The CMU Secure Blockchain Summit is made possible by the generous support of our sponsors, the Algorand Foundation and Ripple.

A limited number of sponsorship opportunities are still available. Companies and organizations seeking to support CyLab's Secure Blockchain Initiative (SBI) and the CMU Secure Blockchain Summit are asked to contact the
CyLab partnerships team
for more information.