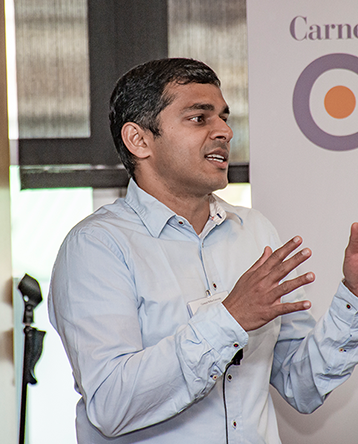 Vyas Sekar is a professor in the Department of Electrical and Engineering at Carnegie Mellon University, and is affiliated with the CyLab Security and Privacy Institute. His research is at the intersection of networking, security, and systems. Sekar's current research focuses on systems for accelerating the deployment of innovative network middleboxes, and designing content distribution mechanisms to improve user experience. 
Sekar received his Ph.D. from the Computer Science Department at Carnegie Mellon University in 2010. He has been the recipient of multiple awards, including a National Science Foundation CAREER Award in 2016. He earned his bachelor's degree from the Indian Institute of Technology Madras, where he was awarded the President of India Gold Medal. His work has been recognized with best paper awards at ACM SIGCOMM, ACM CoNext, and ACM Multimedia. In addition to being a professor of electrical and computer engineering, Sekar is affiliated with the CyLab Security and Privacy Institute.
Network Security: Making the Internet a Safer Place
Improving Video Streaming
Education
2010 Ph.D., Computer Science, Carnegie Mellon University
2003 BS, Computer Science and Engineering, Indian Institute of Technology Chennai
Affiliations
Media mentions
Authority Magazine
Sekar featured in Authority Magazine
Vyas Sekar, Professor in CMU's Electrical and Computer Engineering Department, was featured by Authority Magazine. In the article, he discusses how he became interested in cybersecurity, talks about his research, and offers thoughts on what must be done to protect critical industrial systems from cyber attacks.
CMU-Africa
Afretec planning grants announced
The African Engineering and Technology Network, led by CMU-Africa, awarded six planning grants to research collaborations that will lead to socio-economic impact and focus on driving inclusive digital growth on the continent.
Best Life
Sekar talks cybersecurity on cell phones
ECE's Vyas Sekar was quoted in Best Life on cybersecurity measures to protect your cell phone while out and about, particularly when using public charging stations. "It's easy to modify the outlet if the attacker has physical access," Sekar originally told the New York Times.
Sekar earns ACM SIGCOMM Test of Time Paper Award
ECE's Vyas Sekar and fellow researchers have earned ACM SIGCOMM's Test of Time Paper Award, recognizing the lasting impact of their study, which remains a "vibrant and useful contribution" in today's streaming landscape.