CyLab hosts annual Partners Conference
Ryan Noone
Oct 28, 2022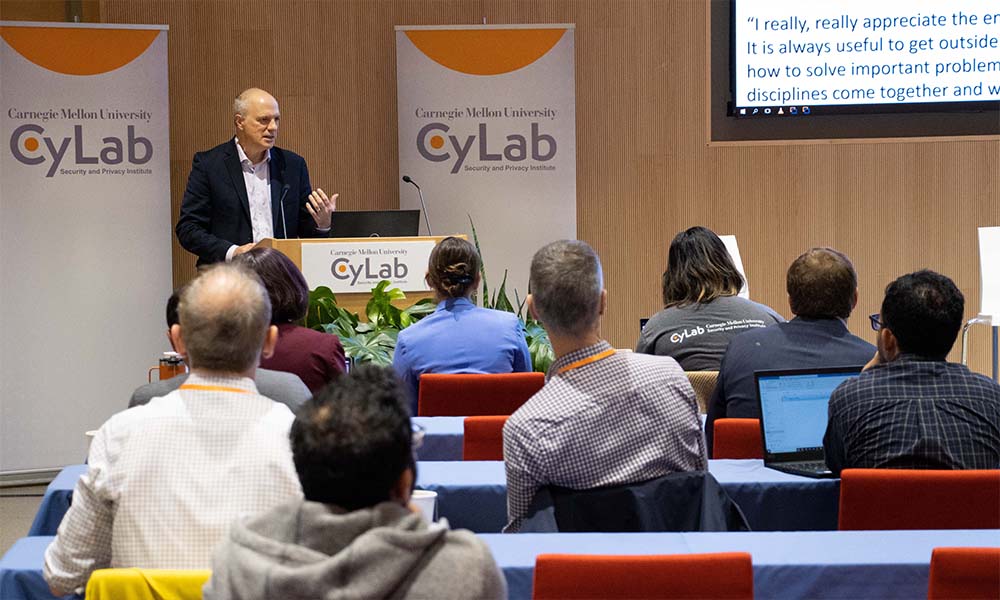 The CyLab Annual Partners Conference highlights the latest research in security and privacy with an interactive forum between faculty, students, industry and government.
This year's hybrid event included three student poster sessions and over 40 faculty and student presentations that focused on various aspects of six topic areas, including:
Machine learning and analytics

Hardware and network security
IoT security and privacy
Human factors in privacy and security
Software and systems security
Blockchain and Crypto
In addition, participants had the opportunity to tour CyLab's Biometrics Lab, take part in demos on CONIX, the Usable Privacy Policy Project and picoCTF, and network during a dinner reception at Phipps Conservatory and Botanical Gardens. 
CyLab partners who attended the event say the conference provides them with insight into the latest trends in cybersecurity and privacy and offers the opportunity to connect with colleagues and academics doing leading work in the field.
"Each year, we come to the CyLab Partners Conference to find out where the world is heading from a cybersecurity perspective," said Max Wandera, Director of Eaton's Product Cybersecurity Center of Excellence. "The event helps us prepare and position ourselves for upcoming challenges."
"Cisco is a leader in network and enterprise security, and we're constantly looking to advance the state of the art. To do that, we need to work closely with those in academia, and CMU's CyLab is one of the best academic institutes out there," said Ashish Kundu, Head of Cybersecurity Research at Cisco Research. 
"At Kyndryl, we're in the early stages of building partnerships. It makes sense for us to work with CyLab because its faculty and students are at the forefront of the cybersecurity space," said Ilyas Iyoob, Chief Data Scientist at Kyndryl.
CyLab's partners include a wide variety of businesses and institutions, each united by a passion for creating a world in which technology can be trusted. To learn more about partnering with the Carnegie Mellon CyLab Security and Privacy Institute, contact Michael Lisanti, Director of Partnerships, at mlisanti@andrew.cmu.edu or 412.268.1870.