Carnegie Mellon CyLab partners with Rolls-Royce and Purdue
Daniel Tkacik
Apr 22, 2021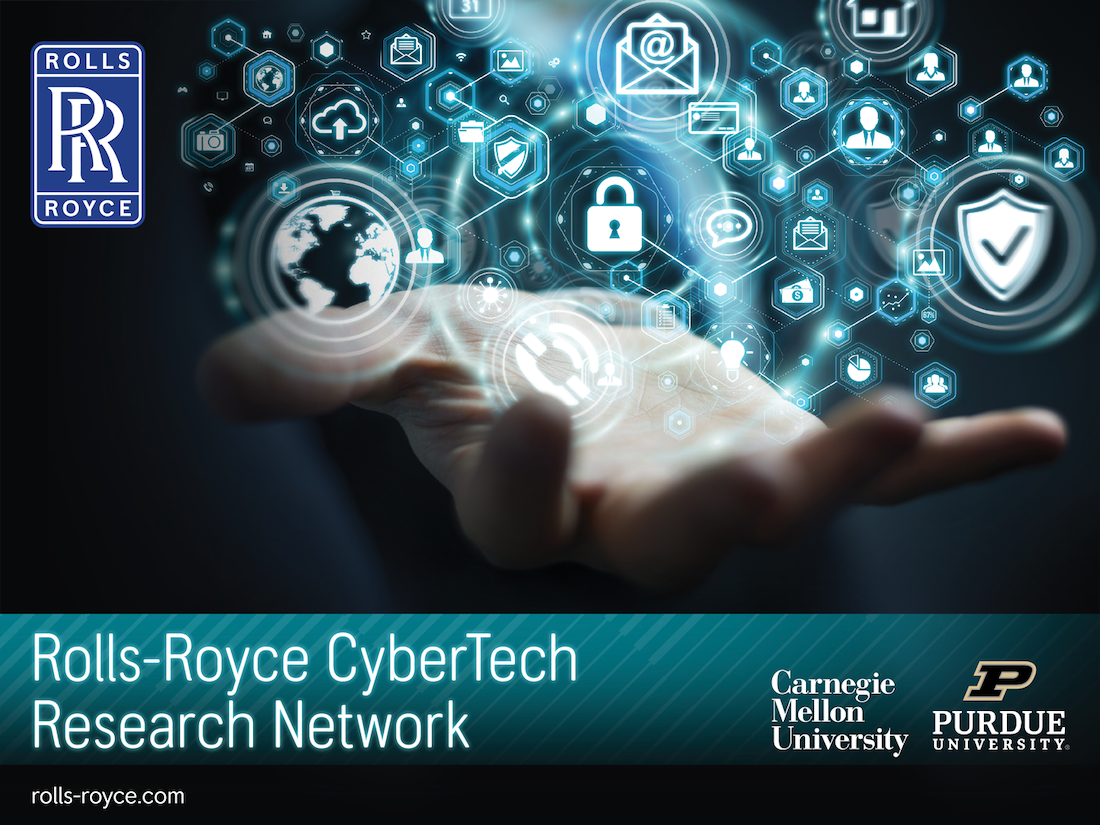 As the world continues its trend toward digitization, Carnegie Mellon University has announced the launch of a new research partnership with Rolls-Royce and Purdue University to focus on enhancing the security of embedded system platforms.
"Our researchers possess substantial breadth and depth in cybersecurity expertise, making our partnership with Rolls-Royce a perfect fit," says Michael McQuade, vice president for research at Carnegie Mellon. "We look forward to continuing our collaboration with both Purdue and Rolls-Royce to strengthen the security of propulsion systems."
Through the partnership, CMU, Purdue, and Rolls-Royce collectively have launched the Rolls-Royce Cybersecurity Technology Research Network, funded by Rolls-Royce, which is expected to conduct four to six projects per year focusing on cybersecurity for power and propulsion systems.
"Our customers rely on Rolls-Royce to anticipate, plan for, and defend against any potential cybersecurity threat—for our products to be cyber-resilient," says Tom Bell, CEO and Chairman of Rolls-Royce North America. "This new research network with Purdue and Carnegie Mellon University puts Rolls-Royce at the cutting edge of advancements in cybersecurity protections for our products and customers. This partnership will enable us to lead and pioneer new solutions to the ever-changing cyber threat, as we concentrate on delivery of cyber-resilient products."
In the world's trend towards digitization, the lines between cyber and physical continue to blur as manufacturing, critical infrastructure, national defense, and commercial systems are all becoming more interconnected via the Internet.
"A large focus in CyLab right now is cybersecurity in industrial settings and applications," says Lorrie Cranor, director of CyLab and a professor in the Institute for Software Research and Engineering and Public Policy. "We're able to leverage a lot of existing expertise in the very area that this partnership aims to address."
We're able to leverage a lot of existing expertise in the very area that this partnership aims to address.

Lorrie Cranor, Director, CyLab
Artificial intelligence (AI) has been shown to be an important tool in intrusion detection and identifying anomalous behaviors in connected systems. However, AI requires significant computing resources, so part of the focus of this new research network will be on developing AI approaches that can be utilized in resource-constrained embedded systems. CMU is the place where AI was invented more than half a century ago and today infuses interdisciplinary AI into research and education efforts.
Three major projects have already begun, with additional projects expected to begin later this year.