CMU-Africa and Facebook co-host cybersecurity hackathon in Rwanda
Daniel Tkacik
Apr 12, 2018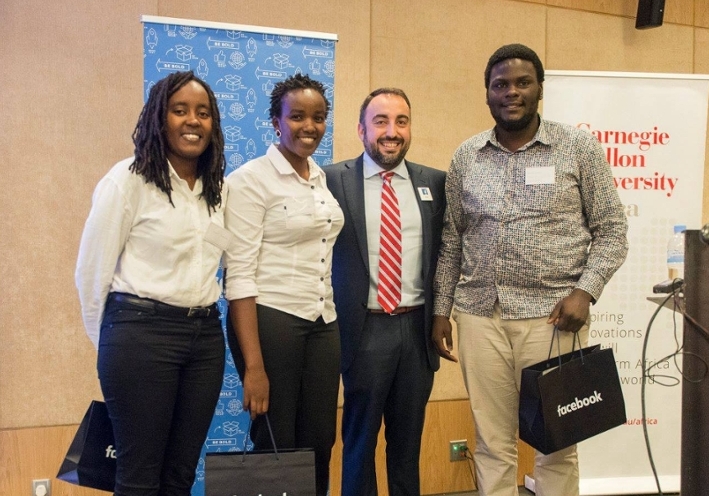 Last week, Facebook and Carnegie Mellon University Africa hosted a cybersecurity-themed hackathon in Kigali, Rwanda, with the goal of engaging and inspiring students to become more involved in cybersecurity. During the 24-hour hackathon, students were challenged with identifying a security problem in any industry currently affecting Rwanda and/or other African countries and developing a solution.
"Hackathons both spark student interest—in this case, in security and privacy—and encourage creativity," said CyLab's Lujo Bauer, who served as a judge in the hackathon. "Both of these are crucial as we try to develop a workforce that will be able to answer the security and privacy challenges of tomorrow."
During the hackathon, 65 student participants representing Rwanda, Kenya, Uganda, Nigeria, Ghana, Ethiopia, Zambia, Tanzania, Lesotho, and Togo were grouped into teams to tackle a cybersecurity challenge. Participants interacted with leading Facebook engineers and staff during their project development.
CMU-Africa students Rahab Wangari, Yvonne Wambui and Emmanuel Chebukati were named this year's hackathon winners for developing an app aimed at combatting social engineering. As winners, the team will receive an all-expenses-paid trip to Facebook's "F8" developer conference in San Jose, California on May 1-2, 2018, which will showcase Facebook's latest technology developments.
The team summarized their experience in winning the hackathon in a blog post.
"The cybersecurity industry needs to be reflective of the diversity of people we aim to protect," said Facebook's Head of Information Security Programs and Operations
Betsy Bevilacqua. "Facebook has invested heavily in security education programs so all different kinds of people get to experience security fundamentals, hands-on."
Hackathons both spark student interest—in this case, in security and privacy—and encourage creativity

Lujo Bauer, Professor, Department of Electrical and Computer Engineering and the Institute for Software Research
Following the hackathon, Facebook engineers Vlad Ionescu and Peter Huitsing, and Carnegie Mellon's Lujo Bauer presented talks about various areas of security and privacy research. Facebook's Chief Security Officer Alex Stamos presented the keynote talk.
"CMU-Africa and Facebook holding this event here in Kigali reflects the recognition that security and privacy threats are a global problem that can only be solved by drawing on talents and viewpoints of people across the globe," said Bauer, a professor of in the department of Electrical and Computer Engineering and the Institute for Software Research. "Holding the event here is also a wonderful recognition of the high quality of our CMU-Africa students. I hope this event will be an inspiration and motivation to them as they graduate and start applying their skills in the workforce."
Facebook and CMU-Africa first partnered in 2017 for a "Bot-Party" and Hackathon in which CMU-Africa students worked for 24 hours to build bots for Facebook's messenger platform to communicate with customers using aspects of artificial intelligence.
"Cybersecurity is extremely important in the development of transformative technology solutions in Africa," said Andrea Ponce, Director of Development at Carnegie Mellon University Africa. "Through our partnership with Facebook, we are able to engage our students in an exciting challenge to create cybersecurity solutions for the continent and to expose them to Facebook's top security engineers and leaders."
CMU-Africa was established in 2011 and is the only U.S. research university offering its master's degrees with a full-time faculty, staff and operations in Africa. Born out of a partnership between CMU and the Government of Rwanda, CMU-Africa is addressing the critical shortage of high quality engineering talent required to accelerate development in Africa—home to the fastest growing workforce in the world.
The vision of CMU-Africa is to educate and empower the next generation of African leaders and innovators by delivering a world-class educational experience. Their mission is to produce creative and technically strong engineers, who have been trained in the African context, and prepared to make transformative impact in their communities and the world.