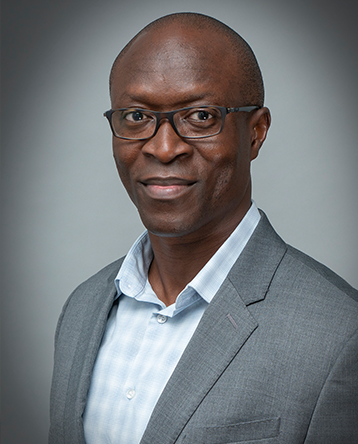 Conrad Tucker is a professor of mechanical engineering and holds courtesy faculty appointments in machine learning, robotics, and biomedical engineering at Carnegie Mellon University. His research focuses on the design and optimization of systems through the acquisition, integration, and mining of large scale, disparate data.
Tucker has served as PI/Co-PI on federally/non-federally funded grants from the National Science Foundation (NSF), the Air Force Office of Scientific Research (AFOSR), the Defense Advanced Research Projects Agency (DARPA), the Army Research Laboratory (ARL), the Office of Naval Research (ONR) via the NSF Center for eDesign, and the Bill and Melinda Gates Foundation (BMGF). In February 2016, he was invited by National Academy of Engineering (NAE) President Dr. Dan Mote, to serve as a member of the Advisory Committee for the NAE Frontiers of Engineering Education (FOEE) Symposium. He received his Ph.D., M.S. (industrial engineering), and MBA degrees from the University of Illinois at Urbana-Champaign, and his B.S. in mechanical engineering from Rose-Hulman Institute of Technology.
The Effect of Deepfake Technology on Education
Using AI & Machine Learning to Design, Teach, and Diagnose
Using AI to Generate VR Environments
Education
2011 Ph.D. in Industrial & Systems Engineering, University of Illinois, Urbana-Champaign
2009 MBA in Business Administration, University of Illinois, Urbana-Champaign
2007 M.S. in Industrial & Systems Engineering, University of Illinois, Urbana-Champaign
2004 B.S. in Mechanical Engineering, Rose-Hulman Institute of Technology
Media mentions
CMU Engineering
A call to integrate AI and STEM education
Artificial intelligence (AI) has penetrated the job landscape and is of great interest to educators. As we develop methods for integrating AI and STEM education to transform the U.S. workforce, we also need to broaden the public's awareness of what AI can do now.
MechE professors recognized as Impact Scholars
MechE's Burak Kara and Conrad Tucker have been recognized as Impact Scholars and awarded $10,000 as part of Google's AI for Social Good program. Their proposal aims to use machine learning and artificial intelligence to improve screening for oral cancers.
Carnegie Bosch Institute
Engineering faculty receives CBI funding
CEE's Burcu Akinci and Gerald Wang; CyLab's Eunsuk Kang; ECE's Gauri Joshi; EPP's Alex Davis; and MechE's Satbir Singh, and Conrad Tucker, and Ding Zhao were awarded funding from the Carnegie Bosch Institute.