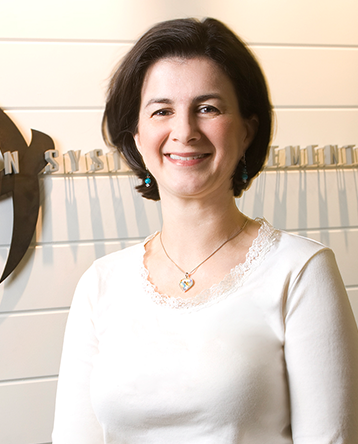 Diana Marculescu has been a professor of Electrical and Computer Engineering since 2000. For the past two decades, she has done research in energy- and reliability-aware computing, and more recently, in CAD for non-silicon applications, including computational biology and sustainability. Diana received her Dipl. Ing. degree in computer science from "Politehnica" University of Bucharest, Romania in 1991, her Ph.D. in computer engineering from University of Southern California in 1998, and held visiting positions at Technical University Munich, University Joseph Fourier, and CEA-LETI. She is the recipient of a National Science Foundation Faculty Career Award (2000-2004), an ACM-SIGDA Technical Leadership Award (2003), the Carnegie Institute of Technology George Tallman Ladd Research Award (2004), an ACM-SIGDA Distinguished Service Award (2010), and several best paper awards. Marculescu is an IEEE Fellow and an ACM Distinguished Scientist and was an IEEE-Circuits and Systems Society Distinguished Lecturer (2004-2005) and the Chair of the ACM Special Interest Group on Design Automation (2005-2009). She was recently selected as an ELATE Fellow (2013-2014) and is the recipient of an Australian Research Council Future Fellowship (2013-2017) and the Marie R. Pistilli Women in EDA Achievement Award (2014).
Making Machine Learning Systems Energy Efficient
Computing for Sustainability
Education
1998 Ph.D., Computer Engineering, University of Southern California
1991 MS, Computer Science, Politehnica University of Bucharest
Media mentions
Chen and Stamoulis receive 2018 Qualcomm Innovation Fellowship
ECE Ph.D. students Zhuo Chen and Dimitrios Stamoulis were awarded the 2018 Qualcomm Innovation Fellowship.
CMU Engineering
Coming down from the cloud
ECE's Diana Marculescu is bringing machine learning applications to your mobile device.
CMU Engineering
Faculty receive Celebration of Education Awards
Four College of Engineering faculty members will be honored at the upcoming Celebration of Education Awards on April 30: Jonathan Cagan, Rosemary Frollini, Diana Marculescu, and Baruch Fischhoff.
Eight engineering faculty members receive CIT Faculty Awards
Eight engineering faculty members recently received CIT Faculty Awards for their outstanding contribution to the College of Engineering.
ECE team wins Best Paper Award at Great Lakes Symposium
ECE's Ruizhou Ding, Zeye (Dexter) Liu, Rongye Shi, Diana Marculescu, and Shawn Blanton recently received the Best Paper Award at the 27th edition of the Great Lakes Symposium on Very Large Scale Integration (GLSVLSI).